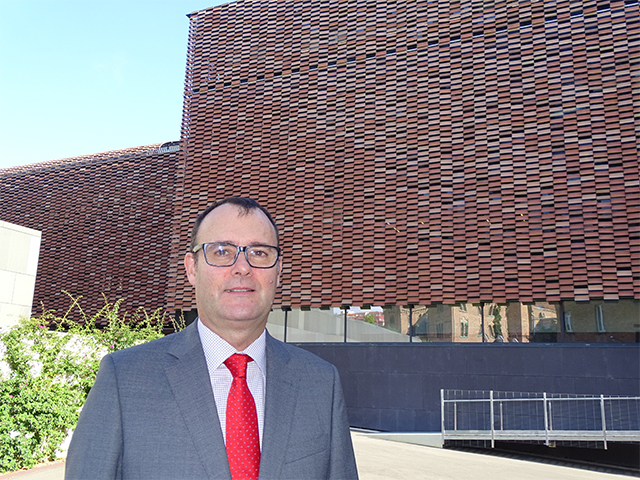 Dr. Jordi Surrallés, new director of the Research Institute of the Hospital de la Santa Creu i Sant Pau
Jordi Surrallés has been appointed director of the Research Institute Foundation of the Hospital de la Santa Creu i Sant Pau (IR Sant Pau) by the Board of Trustees of this institution. Dr. Surrallés is also Professor of Genetics at the UAB. The IR Sant Pau is considered a research centre in Catalonia, identified as the CERCA Centre.
Dr. Surrallés has a doctorate in genetics and postdoctoral experience in the Netherlands (Faculty of Medicine of the University of Leiden) and in Finland (Finnish Institute of Occupational Health). He started his research team at the UAB, where he is currently Professor of Genetics. He was a member of the Research Commission of the UAB and director of the Department of Genetics and Microbiology of the same centre.
In January 2017, he was appointed Director of the Genetics Service at the Hospital de Sant Pau. He directs the Biobank of DNA repair syndromes, and the Service Provisions Laboratory on chromosomal fragility at the UAB. He is Principal Investigator of the Rare Disease Network Biomedical Research Centre (CIBERER), where he served as a member of the Steering Committee for 10 years.
He is a specialist in the field of cancer predisposition syndromes due to mutations in genes involved in DNA repair, where he has contributed to the discovery of new genes causing breast and colon cancer, Fanconi anaemia, Bloom syndrome and others. Thanks to his extensive research activity, he has enjoyed the ICREA Academy Award since 2008.
She has also directed more than 40 research grants as principal investigator granted by public and private institutions around the world, adding up to > 5M euros of competitive funding in the last 10 years. He also participates in clinical research including gene therapy clinical trials, has two orphan drug designations from the European Medicines Agency, EMA, is inventor of 5 patents and leads a series of contracts with private foundations and companies in the Biotec -Farma sector.
He has lectured at dozens of international conferences and has published over 120 publications including articles in Nature, Nature Communications, Nature Medicine, Cell Stem Cells, Blood, Gastroenterology, Am J Hum Genet, Genes and Dev and PNAS. He has directed 16 doctoral theses and dozens of master's students. He is a reviewer of dozens of scientific journals such as Science, Nature, Molecular Cell Biology gold Blood and evaluator of multiple national and international funding agencies such as the European Research Council (ERC), the Agence Nationale de la Recherche-ANR or the French INSERM, the Cancer Research UK (United Kingdom) or the Dutch Cancer Society of the Netherlands, among others.
Line of research
Prof. Surrallés' research interests are genetic syndromes predisposed to cancer due to mutations in DNA repair genes, with special emphasis on familial breast cancer and Fanconi's anemia. It applies genomic approaches to discover new genes involved in cancer predisposition. It also conducts therapeutic research in the field of gene and cell therapy and drug repositioning through mass screening. Dr. Surrallés' long-term goal is to understand the mechanisms that maintain genome stability and protect us from cancer and aging and to translate this knowledge into the development of new therapeutic and diagnostic strategies.
Last update: 15 de October de 2019