20/12/2018
Workshop advances in cardiometabolism
On Friday 25 January, at the Sant Pau Modernist Campus, the Workshop Avances en Cardiometabolisme (Advances in Cardiometabolisme) will take place. A day where doctors and researchers of recognized prestige will present the recent advances in basic, translational and clinical research in the field of Cardiometabolisme throughout four sessions. The workshop is aimed at researchers, clinical laboratory physicians, healthcare personnel in the fields of Endocrinology, Cardiology, Internal Medicine and Family Medicine, as well as personnel in training in these fields. Attached you will find the programme of the conference.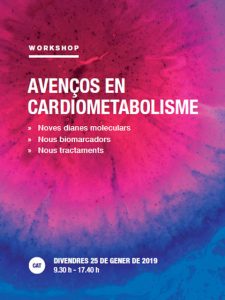 With free registration before January 15, 2019 by sending an email to eliras@santpau.cat
Secretary. Esther Liras. Tel. 93 553 72 67.
More information here